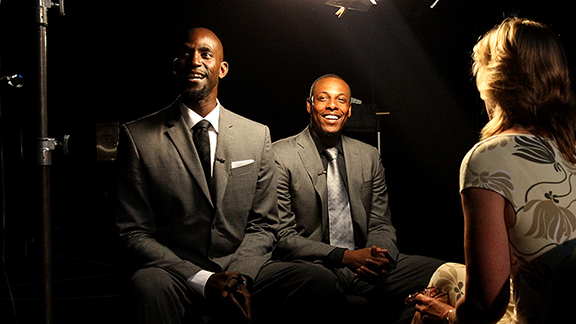 West Less
.
It's as clear as Summer water that over the last few offseasons and all that's transpired the NBA's balance of power has shifted from the former best West, to the one time least East's domain. Thanks to the back-to-back NBA champions the Miami Heat that is championship certified, still if you think it doesn't get much hotter than this then just look at the core of the Big Apple, where the 'NBA Jam: Fight For N.Y.' and the Basketball association looks to happen a few miles away from THE Mecca of basketball. Who knew that Jason Kidd would be leading the Nets to the promised land yet again? But this time not in New Jersey but Brooklyn and as a coach not a player? Mikhail Prokhorov has fufilled his promise. Not only has he brought the former Jersey boys to the suburbs of New York...but he's also made them into one hell of a team. With no sleep to late June...everyone's singing 'Hello Brooklyn' like Jay-Z.
Deron Williams has a lot to play with on the dry erase now...and now one of the best Point Guard's in the league today has one of the greatest P.G'.s ever in his ear, expect guys like the all-underrated, all-dependable, all-star Joe Johnson and last, remaining big Brook Lopez to get even...even better. Especially now Prokhorov has pulled off a Boston in 2007 and signed a big three...from Boston. They got everything but the shamrock adding the veteran greats of Kevin Garnett and Paul Pierce who are still in their best years and their own new sixth man Jason Terry on the jet from Boston too. On paper this team could win big...NOW! Even if there is a best before end date on this package. Did we forget to mention this team has Andrei Kirilenko, Reggie Evans and Shaun Livingtson highlighting an impressive bench too? Who knows Jerry Stackhouse may even re-up.
We just feel sorry for Boston...who now has only the Green Lantern of Rajon Rondo to show the light on his own...and the new Celtic green of Jeff if he can stay healthy. We all thought Pierce would be a Celtic rafter lifer...with Garnett's jersey hanging next to his. Still this storied team is one that overcame the tragic heartbreak of Reggie Lewis and Len Bias. The talent this team can pick up is unbelievable. This team will be ok. You can't count out Celtic pride. Boston is strong. Let's not forget about the 'other' New York team however who still play in Madison Sqaure Garden, where it all started, ready to sing 'The City Is Mine' like Jay-Z and Blackstreet back in the day. The blue and orange New York Knickerbockers haven't been this good since the 70's and with Carmelo Anthony leading the way like the LeBron rival he was always supposed to be the pieces puzzled around him are all coming together. Stoudemire, sixth man J.R., Chandler (Tyson...not Bing!), Shumpert and more of the Knicks tape highlight reels are still playing. Still the addition of a Toronto star in Andrea Bargnani and Tim Hardaways son look as good on paper as Kenyon Martin. Still it's the return of Queenbridge's finest son and the new Mecca World Peace which might truly make this team complete and elite.
As these two powerhouses fight for the Empire State, we can't count out the rest of the conference or the league (as the veteran San Antonio, Los Angeles Laker, let's now not forget Houston and the next great team in Oklahoma still have a fighting chance). Deeeetroit Baaaasketball is back as Brandon Jennings looks to give this team it's future with Josh Smith and Charlie V. All Pistons are firing again, it's almost looking like the Chauncey Billups days...oh and he's back too. Even Cleveland is having a Cavalier offseason looking to tempt their frenemy back next Summer. Next great Kyrie Irving has more firepower with guys like Jarret Jack and Earl Clark, but it's another former Laker that's plugging the holes. The centre the Lakers wish they now never gave away looks to reclaim his throne in Ohio. With Andrew Bynum the wine and gold aren't as far away from the champagne and silverware as many joked.
Sorry Toronto, Philly, Atlanta, Milwaukee (steer clear), Charlotte (the Hornets rebranding is a great, better than pelican move though (just get those pinstripes back you know what they say about the Yankees), Orlando and Washington your time will come soon with a few more players and drafts. Obviously you can't count out Rose and the Bulls or that young Indiana team keeping pace, but we all know whose beating that all and keeping his talents in South Beach. LeBron James is the one and with his own big three of Wade, Bosh and Allen to go along with Battier guarding the house it doesn't look to get much better than that. That was until the Heat burnt the league with it's new wild-card. Signing top pick and league sick note Greg Oden. Now free from the unlucky streak of Portland, one of the few great remaining big-men could have a trail-blazing season. He comes with his own asterix but if he's healthy it'll be the rest of the league left truly sick. He's at the very least the centre this team was looking for to put everyone in their more natural positions truly creating match-up nightmares from the hardwood to the pine. If Oden's even half the great player he was projected to be in a healthy season (he hasn't logged time since 2009), he and the hottest Heat team ever will reduce all the other igniting flames of this league to embers. For next season it doesn't get much hotter than this.
TIM DAVID HARVEY
.