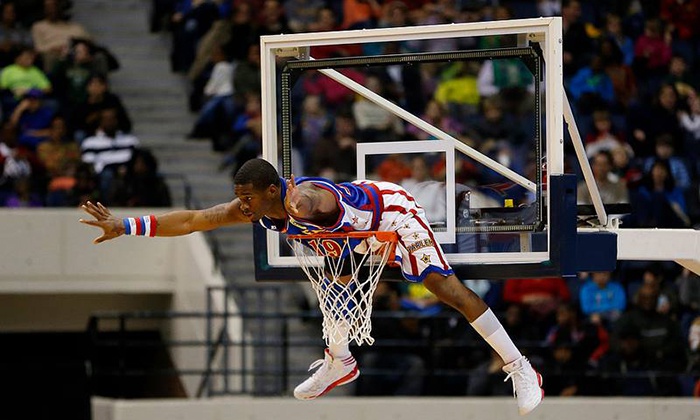 Spinning The Globe
.
By TIM DAVID HARVEY
Did you see that? I can't believe my eyes! A hoops head see's a lot of things in Harlem-Bobbito Garcia, Kobe Bryant just turning up-but nothing like this! This kid is crazy! He's dribbling around what represents the whole of New York, like these nationals are paper towers. Not the Chrysler and Empire State Building skyscrapers they are supposed to represent. He's sliding on the floor, like grease was used to clean this court and he's staying there like the static in his shorts wont relent. He's still keeping the dribble though, as close to his chest as it is to his hand. Spinning around on the floor like he's breakdancing to a Run-DMC classic. It's like that and that's the way it is! But here's the hook, he rises, keeps control, spins some more, fakes more times than cosmetic surgery in Beverly Hills and flashes a genuine smile that is, like this game, what it's supposed to be all about...fun! Even the defenders can't help from having their cheeks break into smiles along with their ankles, as they are all left for dust. Some opting to mop up that greasy mess that should be back there down court, because right now they would make a better living cleaning and paving the floor for the greats. The rest of defence are now spectators, like the audience that's drove miles in their masses to witness this. The paint is this young mans red carpet now as the flashbulbs make camera moments...but...wait! He pulls up like people in their cars on the outside who can't get a seat. Here comes the shot as jaws drop, like eye-lids be damned refuse to. Blink and you'll miss it. The ball goes up. Rising like yeast for the bread! It's all beautiful like the rotation, now just wait for the butter. Then...wait! What!?SNAP! Suddenly, the ball pops back from mid-air right back in the opposite direction and right into this kids palms! What in God's great earth was THAT!? Call that a gooseneck?! This is some Houdini wizardry. Forget Magic! Everyone's shaking their heads and looking at the in-sync head disbelief to either side of them for an explanation. Only in Harlem right!? The guys still smiling as someone finally finds the words to ask, "Meadowlark! How do you do that?!"
You do that by becoming a Harlem Globetrotter...and having a craftily placed piece of string! You do that by donning the traditional iconic red, white and blue and all those pinstripes. Basketball's stars and stripes. You do that by whistling while you dribble to 'Sweet Georgia Brown'. How sweet the sound? You do that by throwing buckets of glitter into the stands and stealing fans purses (not really...only as a joke. Take note kids...or maybe don't). You do that by being the worlds most famous team, without the NBA or another 'Dream' preceding your name. You do that by being legendary enough to have the greatest of all time, dominant in different ways, Laker likes of Wilt Chamberlain and Magic Johnson play for you, yet showcase even more talent in your iconic legacy. You do this by balling with Scooby Doo, getting a way with the ball like a bunch of meddling kids. Forget Bugs Bunny and Space Jam. That's not all folks! You do that by being basketball's first family, like Brothers Bones! Authentic like Mitchell & Ness, since 1927. You do this for being the sports most famous team. Even more recognizable all over the world than those New York Knicks and Chicago Bulls. Or even those Boston Celtics and Los Angeles Lakers. Maybe only Michael Jordan can claim more fame from this game! You do this by crossing over...literally to different cultures and breaking down racist barriers that have existed over these decades. You do this by almost hitting your own Wilt like century. 100 years in the making and just think of all those frequent flyer miles?! You do this by having been around the world (and I, I) more times than Mase (shout out to Harlem) and seeing more of this earth than Phileas Fogg! You do this by spinning the globe around your finger like it was a basketball itself as you span it. Over 20,000 games...GAMES, not miles, of an exhibition of theatre and comedy in 120 countries of this amazing planet for something truly out of this world. Trotting the earth all the way from Harlem, to even brighter lights than Times Square, New York, New Year. Each 365 belongs to you.
Chicago has more hoop history than you Michael Jordan think. The rich and vibrant home of the peach and hoop also housed the Globetrotters before they made their Harlem "home" debut in 1968. Even though a gust of change took this team from the Windy City its time to recognise where it all began, minus any confusion. Chi-Hoops can now claim this along with the Bulls, Isiaah Thomas, Anthony Davis, Scoop Jackson and a whole bountiful bunch of beautiful basketball legends to their Lake Michigan lasting legacy. Still like the river than runs through it, the Globetrotters reach extends further than just all over the United States of America. This harem of Harlem can call this whole, wide world their home from one hell of an extended road trip that leaves millionaire NBA stars without cause to complain about their 10 game ones. After all 'Globe' is in this ultimate and formidable franchises name and trotting across it on their own star trek is their planetary game. From wowing the world at the Moscow Games to visiting the White House and teaching First Lady Betty Ford how to dribble in the Oval Office this team are as important in a subtle but fun way to the last 100 years of American and world history like Marvel comics, blockbuster movies and rock and roll music. The Elvis Presley's of sport, these kings of the rock where the light relief entertainment in the troubled and turbulent times of the Civil Rights era. They where also a great impression and inspired influence on this movement. Breaking down barriers with basketball and uniting fans of all races and creeds who just wanted to enjoy some family friendly fun. It's a loving legacy that still lasts today as you see all sorts of kids today born off basketball and raised off the education of entertainment like they are to the hoop by a Globie for a dunk, unifying bonds of togetherness over tough times. In times that still exist there's almost nowhere these guys wont play to help show a better way. A way that promotes more smiles and laughter. How life should always be hereafter.
A number of greats of basketball have given their goods to the grand Globetrotters forever growing game. NBA legends like Wilt "The Stilt" Chamberlain, Connie "The Hawk" Hawkins, and Nat "Sweetwater" Clifton. Still the original, loyal to the game of fun, Harlem ballplayers, Marques Haynes, Meadowlark Lemon, Jerome James, Reece "Goose" Tatum, and Hubert "Geese" Ausbie deserve their own place in the Hall Of Fame. Look down the corridor and to that epic Naismith trophy cabinet and you can see some of those names with all the Magic and Larry too. This terrific team of top cats have more than just their own Hanna Barbera cartoon show. They are also an animated part and place in hoops and entertainment as a whole history. From their ball juggling to the insane shots made. They are a clinic of how to score and handle the ball. Look today at how players climb on top of the rim to swat their opponents shots. There is no stopping them, even if they will come up with all sorts of hilarious hijinks and hijacking to stop you. It all ends with a confetti dunk and legs rising higher than hands can over the rim...and you thought Vince Carter could jam! Sure this may be WWF fake, but don't wrestle with your competitive conscience. This is all on the spirit of entertainment and there's none better or more epic. Even if your kids don't like basketball, they will love this. Even when the Globetrotters played for real (sort of) they still dominated. Only the greatest scorer in NBA history, Kareem Abdul-Jabbar could stop Mannie Jackson's men and their 25 year, 8,829 game winning streak. Take that Jordan's Bulls! Forget an 82 game season. These cats balled 368 game years. Yep that's more contests over 24 hour periods. Oh my days! Someone check the shot clock! It's still their time. Even if it will never be the Boston Shamrocks, New Jersey Reds, Baltimore Rockets, or Atlantic City Seagulls one. Still the Globetrotters are for the whole world. Anybody can get it. Everyone from Jesse Jackson to Bill Cosby and Bob Hope to Nelson Mandela are honorary Harlem Globetrotters and even Sidney Poitier has been (played) one. These skilful stars have even tried to draft soccer ones Lionel Messi and the undeniable, safe hands of U.S.A. Goalkeeper Tim Howard. I'll see this honourable secratery of defence play if President Obama does too! This is the world ultimate team that will play with anybody all for the love of the game. They are only against hate and anyone opposing them bringing joy in the name of fun. Which after all is what this game and the name of entertainment should be all about for a world today that richly needs some. So don't bet against them like Krusty the Klown. Kids these showmen are the original Harlem Shake! They didn't just change the game. They changed the globe!