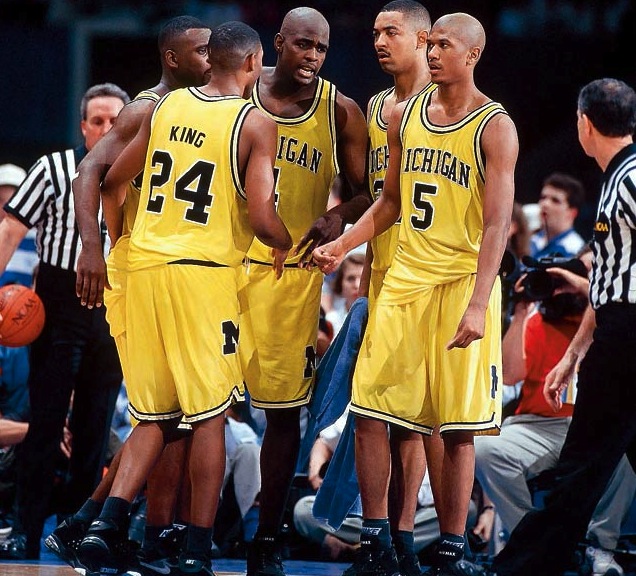 M-Men Origins: Wolverines.
By TIM DAVID HARVEY
#SuperheroSeason
Madness?! This.Is.The NCAA! This is the month that matters. Forget the month of May. Compared to this the NBA Finals are too far away! The Superbowl? A distant memory! Just like those Oscar and Grammy parties. For this is the real award season. From the big brass bands making music courtside, serving as the soundtrack to the storytelling being played out on court, under coaches' direction. These are tall men tales more epic than your favourite movie. Better than curling up with a good book. Readers digest. Don't believe me just watch! This is out of this world like Bruno's last name. It's all about the ones on the back of these vests. Sold to audiences like they should be paid. From the corridors to the hall. The tears rolling down painted faces to the sweat soaking a victory embrace. Many are called, few receive their basketball graduation. The chosen one life of the draft, or Dolly Parton shifts is a wind whisper of a season of change away. Right now its all about the falling nylon string...and whose holding the scissors. The NBA may be the worlds biggest stage and game, but this is where stars are made...before they become made. They say college years are the best of your life. They certainly are if you're playing ball too. Hooping like your a star. Whether loved like Mike, or like Christian Laettner. Speaking of which the NCAA has made legends before the NBA, whether National Basketball associated this with them, or not. Still, save the individuality for whose coming first and number one in the draft, this college class is all about friends and teammates. Camaraderie and loyalty. Before the big bucks and could give a f####. This time and tide tournament of tales is all about teams. The real stars. And in that celebrity, no group of guys was more famous than the fantastic, fabulous five of the Big Ten.
Top 10 all-time in this sports stories. Through their lakes that run all the way to Chicago, the state of Michigan has given this sport a great deal. We all know about the Chicago Bulls and the Motown motoring, assembly line hard-work of the Detroit Pistons. Michigan State university also gave us the Magic of Earvin Johnson and those legendary battles with the French Lick of Larry Bird, even before these two pulled on Laker and Celtic jerseys and gave the NBA its unstoppable to this day, era of gold. Still nothing shines more than the maize and the blue and white of the pure, hard collar work of the "other" Michigan alumni. The avenging Wolverines have always been something to marvel at. Superheroes like X-Men. Mutant man-children. Today for the last stand of March their claws are still honed and sharp like Hugh Jackman in the weight room with less body fat than a butchers apron...after its been deep-cleaned. Fantastic five, rock solid players, blazing hot, stretching the floor and rendering other teams defences invisible. It's quite a thing! Still no matter the power and victory, nothing beats the glory days of the 90's when the Fab Five pulled up their black socks and brought hip-hop to the Stockton short sport. Public Enemy number ones with a N.W.A. bullet. Whose your top five? I'm asking you like Chris Rock, Richard Pryor, Eddie Murphy, Dave Chappelle, Kevin Hart. Biggie, Tupac, Jay-Z, Nas and Rakim. Like your Mount Rushmore. Like you're Wilt Chamberlain, Tim Duncan, Larry Bird, Michael Jordan and Magic for your starters. Or this game. Whose your picks? Jimmy King, Ray Jackson, Juwan Howard, Jalen Rose and Chris Webber.
Ohio State F###-Eyes be warned (Jalen said it not me), this one isn't for you! 1991. This was a year in a class like no other. Two Detroit's sons repping their state, along with Chicago and Texas being honoured to the figures 4, 5, 25, 24 and 21 and the countless number of victories that they wanted to amass. An opener against the University of Detroit as fitting as the time all-five were the only scorers fighting the Irish of Notre Dame. Damn it felt good to be a part of this team that even Ice Cube was a fan of. Cooling opponents with their water, melting everything else like the first rays of Summer days. Or to have the true greatest of all-time Muhammed Ali know who you are...and tell you not to apologise for who you are. A billion served. McDonalds All-Americans to Division State Champions, the buck only stopped with Ed Martin's money. Still what no longer exists in the history books, will always last in the chapters of memory. Legends to the testament as real and raw as it got. Or ever will. Time after time. 30 for 30. Youtube highlight to documentary worthy. Highest rating ESPN docu ever...go figure! Webber told you to get "that f###### camera" out his face. Focus, in more ways than one he put you in your place. These guys where hip-hop and hoop stars whether you liked it not. Somewhere in college credentials and somewhere between the playground and the real thing of the NBA like a kid that skips to your Lou. From the concrete to the hardwood. To the corridors of the hall. They shaved their heads like Mike, hanging that Jordan gold-chain round their necks. Their all black shoes and socks causing more shock than those fined and banned Air Jordan sneakers. Even before they went hard for their trophy cases they where putting the grit and grind, spit shine on their collective legends. The Fab Five going for the Final Four...but winning more. We aren't just talking about the rep of respect either. We're talking about something more than money...and the young, naive mistakes of accepting it off grown men who should know better and instead learn a new way to legally pay these kids a fair days wage, for a fair days play. More than the critics calling time for a costly timeout. We all make mistakes and we all rectify them somewhere down the line. It what the win and lose nature of this game and its metaphor of life is all about.
This famous five went on to bigger, but maybe not more fabulous things as they staked their claim in the big leagues of life as grown men. Still, to this today, no matter what they do their hip and cool, hoop hopping legend and legacy, born and made in Michigan still follows them today like the most epic, entourage that even Jeremy Piven would struggle to employ and enlist. Ray Jackson may have been the only member of the Fab Five not to make the NBA but he was still an integral part however, just like Michigan reserves and former NBA'ers Maurice Taylor and the late, tragic Robert 'Tractor' Taylor (relation, only on basketball brotherhood) were. He still tried out for the New York Knicks and Detroit Pistons and played in the CBA, winning Rookie Of The Year honours there. Now with even more meaning, Ray has formed the Rise Up incorporation. A non-profit charity that lends kids another assist from the basketball court to social and educational experiences. Jimmy King also crowned and capped off two seasons of National Basketball Association basketball. After some expansion time with the Toronto Raptors and the Rockies of the Denver Nuggets, the post-credits, script-type of this film reads that King served as a Wall Street advisor for Merrill Lynch. Now that's one hell of an occupation. Overcoming the daunting shadow of having an NBA father in Jimmy Walker, Jalen Rose became one of the Fab Five's most popular and more identifiable members. In the NBA he was a star who almost shone at the championship top with clutch three hero, come villain Reggie Miller for legend Larry Bird's Indiana Pacers. He also became a Chicago Bulls stampede leader with 'Rose' wrote on his back before the knee comma punctuated tenure of Derrick. Now Rose blooms as one of the NBA's top and most entertaining analyst. Much like fellow most famous Fab Five member Chris Webber who was drafted by Golden State, had a few shots with the Washington Bullets and concluded his career alongside two A.I's in Philly after coming so excruciatingly close to the throne, time after time with the Sacramento Kings. Damn those pesky Shaq and Kobe, purple and gold Los Angeles Lakers for these maize brothers. Still Webber became one of the greatest Power Forwards of his time, revolutionising the position with averages of 20.7 points per game, 9.8 rebounds per game, 4.2 assists per game, and 1.4 blocks across the board of his career. One of the leagues best journeyman of recent generations Juwan Howard rounds out this F.A.B 5, playing for eight teams including the Washington Wizards, Dallas Mavericks, Denver Nuggets, Orlando Magic, Houston Rockets, Charlotte Bobcats, Portland Trail Blazers, and Miami Heat, whom he won an NBA championship with. Becoming the only member of the Fab Five to do so. Proving that no matter what was taken away from this group, the Fab Five still won. In more ways than one. Make that five. Now how fabulous is that?