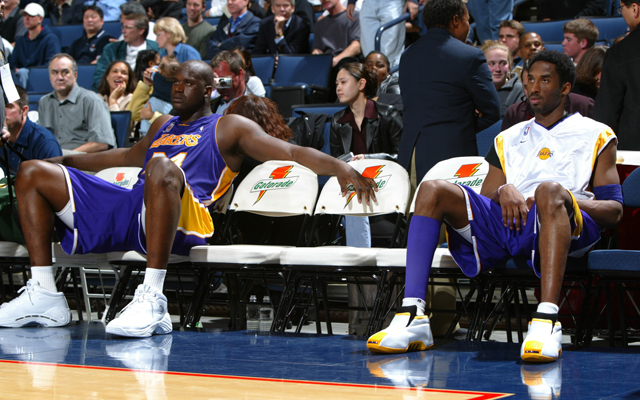 Batman & Batman.
By TIM DAVID HARVEY
"Shaq made his own way and Kobe made his own way and in doing that and understanding how to stay within the system they where successful and they where able to be considered Hall Of Famers."-John Salley (1999/2001 Lakers Championship Teammate).
Fabulous Forums of fans flock to watch a formidable, dynamic duo for the dynasty ages. One man a Goliath Giant, so notorious and B.I.G. they had to build a Tony Stark, Iron Man, side of the Hollywood Hills, marvel of a mansion in Los Angeles especially for him and the thousands of broken hearts he averaged each season, night in, night out. The other a guarded guard who held the changing of the court in his clutch hands so tightly they remodelled and designed the logo of the NBA and the game itself after his very image and likeness. One big number 33 with an unmistakable, giant and iconic look and hook shot that sank every opponent everytime it dived through the twine...which was everytime down the line...without fail, like factory clockwork. The other a number 32 who was Showtime like no other and a man who may as well have been the redesigned logo of this brand of Hollywood ball as he went to change the game again with the top hat and cat tricks of his trade. It was something like magic for this man and his captain oh captain. Sound like anyone you know? Well this ain't the Wilt/West of The Stilt Chamberlain and Mr. Clutch, Jerry, the logo. Or the Magic/Kareem of the goggles of Abdul-Jabbar and the one and only Magic man Earvin Johnson. Nor is it the golden era 90's, before the big threes, dynamic duos of the pick and roll of the Utah Jazz playing Stockton and Malone. Or the original 'Lob City' Blake Griffin and CP3 of Seattle's original Supersonic Gary 'Glove' Payton and Shawn 'Kamikaze' Kemp. It's not even arguably one of the best one-two punches ever of Phil Jackson's Chicago Bull greatest of all-time Michael Jordan and the most underrated "sidekick" in the history of the game Scottie Pippen. This is the Zen Masters other calm before the storm classic three-peat championship cocktail. This is the Diesel and the Black Mamba. Batman and the Dark Knight (or should we say 'Batman v Superman' in the dawn of 'Civil War' superhero in-fighting. Now forget whose side to choose, whose Captain America and whose Iron Man?). Neither wanting to play the tweet, tweet games of a Robin. Before the Oklahoma Thunder storm of Durant and Westbrook. Before todays Twitter feuds...or even a punctuated podcast, the original quotable, exclamation marks of this words and names in lights National Basketball Association was the STAPLE of the Los Angeles Lakers; Shaq and Kobe.
Blow the dynamic duo! These two where more like the dynamite duo! A fuse ignited that was ready to explode at any given second. But was it a Tom Cruise like mission to prevent the possibility of two of the nations and top Hollywood stars from going rogue? Boom! Its 2001 and young 'Frobe Bryant is dribbling through all the West's defences like the eight wonder his world best selling jersey reads. A blazing trail of red, white and black engulfs his new purple and gold signatures. Gone is the trim of the forlorn Forum days that where swept away by the air of shots that even missed the rim and the balloon empty arena that couldn't be spurred on by the storied success of the past. If Shaq and Kobe where the Wilt and West or Magic and Kareem of the future, All-Star back-ups like Cedric Ceballos, Eddie Jones and Nick Van Exel as great as they were, were not your Elgin Baylor's and Gail Goodrich's or Jaamal Wilkes and James Worthy's to these guys. That was the past, but now in this moment young Kob' has what looks like even every Portland player off the bench at him. Forget a triple-team, this next generation Jordan commands more. If Mike was God, than Kobe has so much game he's Jesus...with all due respect to the Shuttlesworth of Ray Allen. Right now J.C., K.B. is looking for Goliath and the most dominant player this sport has ever seen since the 100 point man his 81 could never eclipse Chamberlain wilted everyone in his painted path. Number 8 is flanked by a lot of legacy making Lakers open because there's no one else possibly in this STAPLES Centre to mark him unless the away fans got involved too. To his right, his mentor Ron Harper. One-time before a career crippling injury considered to be the next Jordan himself, before being reinvented as his teammate and a valuable veteran for Chicago's championship campaign, a former Bull joining Phil Jackson's new postseason stampede like Shaq back-up John Salley and former 80's Showtime Laker legend A.C. Green. Alongside and almost behind him, number 41; Glen Rice. A three-ball purist who was meant to be the final piece in this triangle for Hollywood's new top-billing, big-three, despite not making it past this season. And ahead of him in the left corner some Big Shot called Bob. More than a "whipping boy" until the fourth quarter when he was the Mr. Clutch of the Lakers and NBA all-time, Robert Horry. The new Showtime saviour who along with fellow back-seat but big-time players of Rick Fox and the loss to a win in 0.4 seconds Derek Fisher, formed a role playing big-three that was all Shaq and Kobe's Lakers needed to be once, twice, three times a dynasty. Still, Kobe wasn't interested in this triangle of Phil's, all he saw was the big circle of O'Neal in the paint canvassed by the best big-men the Blazers could burn from their rotation of Rasheed Wallace, Dale Davis and future Laker via big Caron Butler and Lamar Odom trade Brian Grant. Up went the lob, tear-dropping like the French flair of a Tony Parker, leaving everyone not in Lakers purple crying. And there came a floating mountain in the pound for pound flesh form of "Little" Warrior O'Neal who got some air-time like Mike, with Godzilla force as his palm met peach. And the rest was...BANG!
Eyes wider than if a script landed like a thud on his doorstep labelled; 'Kazaam 2', Shaq couldn't believe it running back down court with even more energy reserves in this epic moment than the euphoric one in '92 when the Orlando Magic drafted some young number 32 who mouthed the words; "me"(?) when his one of a kind name was called Sternly. Shaq kept running, mouth wide open with both arms and indexes kept up in the air towards Kobe until the Lake Show ran all the way through the postseason and the Pacers to the arms of Larry O'Brien and the tears of champagne. All until Kobe ran right back to him and leapt into Shaq's huge arms and bear hug, crying the tears of a gentle giant after all these years finally showing all the Davids that Goliath could win no matter how many rocks they threw at him. And even before todays crowned King in this game of thrones had his own people throwing rocks at his burnt effigy billboard and castle, Shaq and Kobe held this chair and court together, season after treason, until one day the kid that ran into Daddy's arms became a young Prince of a little red Corvette that ran into a brick wall in South Beach! And you thought LeBron brought Miami some Heat!? After the coronation of their classic crowning series, the back-to-back Lakers could have even given the 72 game winning Bulls a gallop for Money's record books as they swept almost everybody en route to an almost perfect postseason if it wasn't for the unquestionable MVP answer of Philly's Allen Iverson giving the Sixers more stake. Next year as the Lakers made it three for their crowds they made sure they brought the brooms this time as their carpet trick on New Jersey made the Nets all theirs as they vacuumed away all of Jason Kidd's hard-work like Brooklyn did New Jersey or the former legendary Point Guards coaching tenure. Where the Lakers getting cocky? Could they go fourth? The next year out in the Wild West which always back then determined who was best the Lakers couldn't click against the evergreen and ever-old Tim Duncan and his San Antonio Spurs who upset them once again like they where back in the Forum in '96. Even another Big Shot of Bobby Horry went in and then all rimmed out as his last clutch for L.A. was nothing but straws. The following season he'd look to sip champagne again one day with the same Texan team that just drew first in this saloon shootout showdown. If you thought Shaq and Kobe where creating fallouts in Hollywood when these guys where winning award in a town full of actors then you hadn't seem anything, or the final twist yet!
Scripts flipped in their final year as this dynamite duo was joined by a dynamic legendary, veteran one in the form of two big free agents. The gloves where off for the Seattle Supersonics as top Point Gary Payton joined former Utah Jazz player Karl Malone in the Mailman's new Hollywood delivery for their escape to L.A. Even with all this there was still a Hollywood divorce on the horizon with one superstar playing Kurt Russell. Even with a new Tango and Cash, buddy cop like partnership in downtown L.A., even behind those indoor sunglasses, Sly Stallone and other celebrities courtside could see something wasn't quite right with all that was left in Lakerland. Even beyond the individual stresses of Shaq's little toe problem and Kobe's big court to court one of catching rape charges in Colorado. The two, better for worse stars where fighting again like Brad Pitt and Angelina Jolie in 'Mr & Mrs. Smith' in a marriage of celebratory and commiserating matrimony. It all came to a head when Karl Malone went down on one knee and a team of certified Hall Of Famers where beat down by a team of so-called role players as the assembly line of Detroit Pistons motored past the Los Angeles Lakers taking the throne to the Palace Of Auburn Hills and proving that Bad Boys or Motown wasn't dead. What was however was a double act that got crowded after three. In a death of a dynasty bigger than that of Jay-Z and Dame Dash, Kobe was left holding the rock on his own as Shaq took his talent to South Beach in the twilight of a break up even bigger than one in the direction of vampire film stars. After Kobe and the Magic of Penny before him, Shaq got his revenge on the Lakers and not just at Christmas, but for all seasons, winning another championship running with the Flash of Dwyane Wade. Success at last again, before closing out the second half of his career on the veteran side of riding with the King in the wine but no champagne of Cleveland, before becoming the Big Shaqtus in Phoenix and a shamrock mascot in Boston, his career ended by age, injury and seemingly hilarious Nate Robinson pranks. The Doberman Kobe on the other side endured the dog days of Kwame Brown and Smush Parker, before Spanish legend Pau Gasol joined guys like Lamar Odom, one of two failed, albeit formidable Shaq replacements Andrew Bynum and old friend Derek Fisher in leading the Lakers back to the promised land over Boston and in the end getting "one more than Shaq"! Now after the ravages of injury and father time, in what might be Kobe's last year he looks like a long way from matching Mike again as he passes the torch to number 2 D'Angelo Russell and the small ball big-three of Julius Randle and a new Jordan called Clarkson as the purple and gold tapes remix passed on a future big-man in Jahil Okafor in their long legacy that began with Mikan in Minneapolis. Possibly because they just know they could never replace Shaq. It took the Superman returns of Dwight Howard in Brandon Routh sequel, sophomore slumping form for Kobe Bryant to realize that. And as the pair politic over podcast in a revealing and redemptive moment they show its all love and no hate as they lament a loss and wonder what could have been in the win column. You could see it in the Western reunion of the 2009 All-Star Game when Shaq and Kobe teamed up again for some signature moves, winning once again as Co-MVP's and a moment where fans and rumours hoped would result in one last purple and gold ride down the California coast of Lakerland. But sadly a storybook ending wasn't made out in a big deal...we'll just have to settle for the audio, (can you feel that? That's the feeling of clear air) what was and what could have been. That's just life, sometimes even perfect partnerships don't work out, but that doesn't mean that it wasn't all love and in the memory of their greatest moments something beyond beautiful. Just like this game. Now maybe one day if these guys are immortalised in bronze off court at the Lakers entrance (may we suggest some sort of Portland piece?) it should be like it always should have been...as one. Just like when Kobe joins Shaq in retirement and is welcomed by the Big Fella in a ceremony that sees his number 24 raised right next to his number 34, right next to rafters of all the banners they put there...together.
#ShaqWeek
#TheKobeSeries