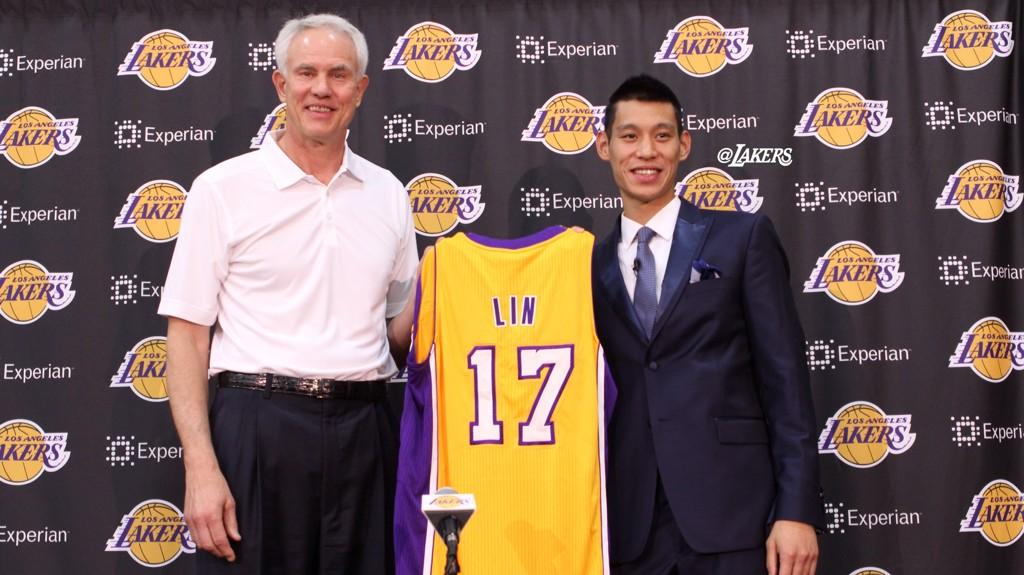 The Lin Laker Dynasty.
By TIM DAVID HARVEY
Boy are you in for a show tonight kid! Kind of like the one this writer attended off Broadway in twenty twelve. Hustling around New York City in mid-March looking for the hottest ticket in town. An Englishman in New York, giving all his dollars up like he had no sense or feel for the sting. All to pass through the gates to basketballs garden of Eden. The Madison Square mecca. Still I'd seen this place before. Starred at its incredible and iconic ceiling, a hoops purists Sistine Chapel. I wasn't there to see the worlds most famous arena again. Or the banner jersey of Patrick Ewing's 33. I wasn't even there to see the 'melo of megastar Carmelo Anthony either. I was there for something much crazier. I was there to expose my lack of immunity to a fever that had vice gripped the hoops nation, like its cash from the souvenir stores posters and t-shirt to the rest of the roundball globe. I was there for the reason why Spike Lee was wearing the number 17. I was there for the kid from California who changed the game and its perceptions. I was there for Linsanity.
And he didn't disappoint either in his 15 games of fame. But that's all over now...or is it?! After the Asian American took his fame and game to the market Yao Ming left in Houston for a not so insane game year, the show goes on for Jeremy Lin in his home state with Los Angeles. Giving the Lakers a player back from the Rockets who took centre Dwight Howard with last years free agency. All while unloading the contract of a kid they clearly didn't have much respect for when they made a play for this years marquee free agent and former Lin teammate Carmelo Anthony when they made a banner of 'Melo super imposed in Jeremy's number 7 Rocket jersey. Neither H-town or the Joel Silver and Tobey Maguire scripted Hollywood got New York's Anthony, but one team got a star. As Jeremy Lin held up one side of his new jersey like he was folding a bed sheet with Mitch Kupchack he revealed the number once worn by Laker champion greats Andrew Bynum and Rick Fox. Still even with the return of his Knick number this talented young stud insists that Linsanity is as a thing of the past as thankfully his pressurised and ignored performance anxiety he suffered in last season in what you could call this coming out party kids sophomore album...but not season. Still as a hit show from New York heads to Hollywood, even with the death of many a dynasty something special feels like its going to happen when Linsanity meets showtime.
Behind the scenes though there's much direction needed for this young, staring leading man who looks to take the Point Guard lace untied and about to be hung up ropes from one of the best Point Guards of all time and best since Magic in more ways than one, Steve Nash. "We've got a lot of work to do", Los Angles alpha Kobe Bryant told his new dog and the man that even outscored Mamba in the dobermans February home of M.S.G. Just like he did with Nash, Kobe yet again has the chance to form one of the leagues quickest and best backcourts as showtime runs again in Hollywood like it was the Stallone and Goldie courtside 80's. Laker lifer Nicholson knows this Jack. On paper this team reads well, from the frontcourt additions of all-star Carlos Boozer and hot kid Ed Davis to the number 7 drafted future star Julius Randle, to even the re-signed youth movement of fantastic four Jordan Hill, Xavier Henry, Wes Johnson and Nick Young...who Lin will have so much fun running with in the changing of the guard. Still we all know sometimes the stat sheet reads different especially with Jordan Farmar, Kent Bazemore, Chris Kaman and Kendall Marshall all joining championship certified, Laker legacy legend Pau Gasol on his escape from L.A...what where we just saying about Goldie? This team is almost as depleted as its stocked and lets not even talk about the potential free agents this team has already lost also.
Sure the Linsane LeBron like hype is a wrap now like all those flavour of the month in your ear hip-hop references, but this kids still got the talent that took him to the worlds stage in his elite game. The former Harvard grad is an A student of this game, even after spending some detention time in the D league and he's ready for his next examination. If only he was undrafted because scouts thought he was to busy hitting the books in Boston's most prestigious college. Still just like Lin has overcome the cruel racial and physical taunts to be a big name star, he'll overcome the doubt and anxiety that shrouded the star power but not the player one of the season after. The kid is coming home and getting the welcome chance that was not invited in California's Golden State. This is a team of big names and legends. Like literally the highest nams, from Wilt to Shaq, Mikan to Cap, Kareem Abdul-Jabbar. This town of the highest personalities is also known for the little guys, the guards. Think Gail Goodrich and of course the logo himself Jerry West and of course the Magic of Earvin Johnson. Now with Nash's later years, this is arguably the Lakers best and biggest star at the P.G. position in their prime since M.J. of the reverse 23 nature. With assistant coaching rumors pointing to the glove of another former aged Hall Of Famer Laker, Gary Payton then this young point could really get his mentoring from the best. Especially if Byron Scott joins the forum...then it'll be showtime again. Whether Lin ends his Laker career in the rafters or more awarded like a troubled Lamar Odom, he'll at least sneak toe the line of the electric Nick Van Exel's or even the clutch Derek Fisher's, being the second but smaller scoring option Kobe demands. While the boy wonder is the Robin to Kobe's dark knight, the vet Boozer and rook Randle paint the frontcourt points in this inspired illustration and court canvas. Still there's one point Lin and the Lakers really want to make and that's that they're still as big as their name. You know what they say in this town, heres looking at you kid.