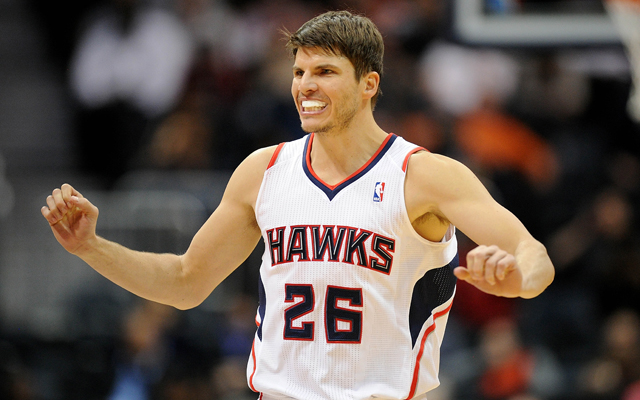 Like A Bird.
By TIM DAVID HARVEY
(The Sequel To #SuperheroSeason 'Hawkeye')
Swish!
Stroke after stroke hits the mark from the box. Swish, swish, SWISH! Its been like this since the season begin. In every arena in all towns across this country. Stroke, stroke, stroke. X's, not O's however mark the spot. All taking names. LeBron, Kobe, Curry. Vote getters, mid-February weekend lovers. NBA All-Stars headed to the mecca of New York's Madison Square Garden via the borough of Brooklyn. Horford, Millsap, Teague...but no Korver? You Punkin' Kutcher?! O.K. I swear that's the last time I rewake that tired reference. Still the league best Atlanta Hawks have recently beaten the Braves and fellow Falcon birds of prey to hold the record for the longest winning streak in ATL franchise sports history. Their winning streak soared to almost 20 games, before another bird in the form of the Pelicans clipped their wings to 19 and done games. You best believe that whilst getting their talons into some top tier playoff real estate, a big part of this ballclubs success was thanks to their Georgia peach with the peach from downtown, Kyle Korver. Even with their big All-Star three of Al Horford, Paul Millsap and Jeff Teague in this league of extraordinary gentlemen trilogies. Korver is so hot right now, going from a three ball king to a moneyball star, more than the Michael Lewis, Bill James, Billy Beane statistical playbook. So much so that here we are just over a half year after writing our first 'Superhero Season' Kyle Korver piece, giving the Atlanta player his new Avenging nickname, 'Hawkeye' for the way he crossbows long range arrow daggers like cupid. But still no love this mid-Feb? Perhaps its time for a new nickname for this Hawk. Perhaps 'American Eagle' the way this All-American, would be All-Star spreads his wings from afar like a Bird. More like the legend of Larry not Nelly. Dominique dominant! Still even though the All-Star public voting committee may sleep on this number 26 who clutch puts other teams to rest, he won't care. He'll still be in the gym, day in day out, practice making the shot after shot that becomes in-game perfect.
Swish, swish, swish!
He'll still get his chance to shimmer and shine at All-Star weekend in New York however, even if it comes with the Saturday events in Brooklyn, rather than the Mecca event in Madison Square. In his range of the three-point contest he'll get to wet the Golden State splash brothers of Stephen Curry and human torch Klay Thompson, all whilst showing sharpshooters like J.J. Redick, Wesley Matthews and double nickle, 55 hot Kyrie Irving where real punctuated point purity lies from way downtown. Making every ball like the last one in the rack. The underrated and understated K. Korver may just be amplified enough to clutch the trophy away from the red hot Curry...besides he was shooting when this kid was in school watching his old man Dell shoot the lights out at a cyber, computerized rate of accuracy. You want to talk about real Warriors coming to play downtown to the tap of a bottle neck? This guys a Chris Mullin buzz hitter, with Euroball range. Dirk deep. Peja pretty. All whilst this American eagle looks like he's young enough to stand outside that outfitters or Abercrombie and Fitch. Even if he's well into his 30's like an ESPN documentary. Channing young looking, knocking you out like Tatum with the magic of Mike in the fourth. But still no star? Do we need to call him David with his goliath play? No disrespect to arguably the best big man in the league Horford, or his frontcourt, paint soldier ally Millsap. Or the league leading Teague at his point. But the reason the Hawks have flown to the top of the standings is as much credited to Korver's big threes as well as the big triple leading the way for the A. He's probably won as many games as he's changed with his momentum moving, monumental plays.
Swish, swish, swish!
Yet now Korver joins the fellow snubs of Wizard wall Marcin Gortat, Denver Nugget gold Ty Lawson and the criminally ignored Trail Blazing Damien Lillard in having no excuse to not take their significant others out on valentines weekend. A fancy meal, a nice walk. Don't want to have to sit through that 'Fifty Shades' of pap? Tough! Just like teammate Elton Brand once said hilariously to his snub said, "its O.K. I'll spend the weekend with my wife and kids...oh wait that's right, I don't have a wife and kids". How times change though...now Korver's a dad too. Even if he's still a baby-faced, thirty something that acts his age but looks like his jersey number. Still this rain makers a star, everything else is just a forecast of mild precipitation. When he's dialling from distance you don't want to be on the receiving end. This writer remembers this guy getting mobbed at a House Of Hoops in London, like his God like shooting touch would rub off on the crowd if they could just get at the hems of his tracksuit. To later show off in the school yards and playgrounds, shouting "KORVER" as they let it fly from deep like an eagle or Hudson Hawk...there's another nickname, maybe if we turn this big three shooters articles into a trilogy we'll have another title. Just like the Hawks might have soon thanks to their good eye! Who gives the Hawks as much wing as the Tim Duncan efficient imitating Al Horford, the man good enough to replace Carlos Boozer in Utah when he was good enough to replace Karl Malone, Paul Millsap and the speed of Teague. They may be the big three, but I can give you three more reasons why Korver is the one.
Swish, swish. swish!
Even the Avengers of Captain America, Thor, The Incredible Hulk and Iron Man need their Hawkeye. Whether he comes with some Legolas, Hunger Games archery skills or two guns like Mark Wahlberg and Denzel Washington bringing their own graphic novel to life. Kyle may be the ATL's Agent Barton but when this marvel extends his range like Mr. Fantastic he NBA Jam flames on, becoming a human torch, rendering defences invisible. Its an incredible thing, just imagine if they really do introduce the four point play. This guy watches the superheroes back, seeing better from a distance. Still, these days you don't have to go all the way downtown to see just how much of a court visionary this guy is. There's more to this guys game then living and dying by the three. His seemingly modest numbers of around 12 points, 4 rebounds and 2 assists per game are crucial across the board box score of a 6,7 prototype. There's an all-star in there trust me. Purists know just how great a guy like the stay at home dad looking Matt Harping really was. This fellow former Jazz player makes more noise than the subtle notes he plays too. Put it this way if the Rose, Gasol, Noah and Butler Chicago Bulls still had this guy you could guarantee these guys a championship like a Ray Allen pick-up. The guys just this pure, modelling his shot after the greatest game winning legend Reggie Miller, whilst adapting his whole game to the finalizing factors of defence (its not just that gum guard holding everything back) and all round team play. This California kid from the heights of Creighton to his Sixer start has always made his mark. Still after passing Jason Richardson as the 15th all-time leader in three pointers made and beating Barros to an NBA consecutive 127 games with a three pointer made, this guy has become more. He's NBA history. Check the books. Or his manicured styled, success guaranteed, 20 point checklist. Wide stance. Exaggerated legs. Drop through heels. Engage core. Slight bend at waist. Up strong. Elbow straight. One hand. Fingers spread. Slight pause. Elbow up. Land forward. See the top of the rim. Ball on fingertips. Strong shot. Shoulders forward and relaxed. Ball and arm risen straight. Hold the follow through. Keep the release point high. On turns, square shoulders. All this and he still doesn't make the fans All-Star voting list? He's a Team USA member for the love of God and country! Next year or an injury prone coming next week needs to make this right. Now you know what to do as swiftly as the click of a pen the next time you see Kyle Korver's name next to a blank space...
Swish, swish, swish!