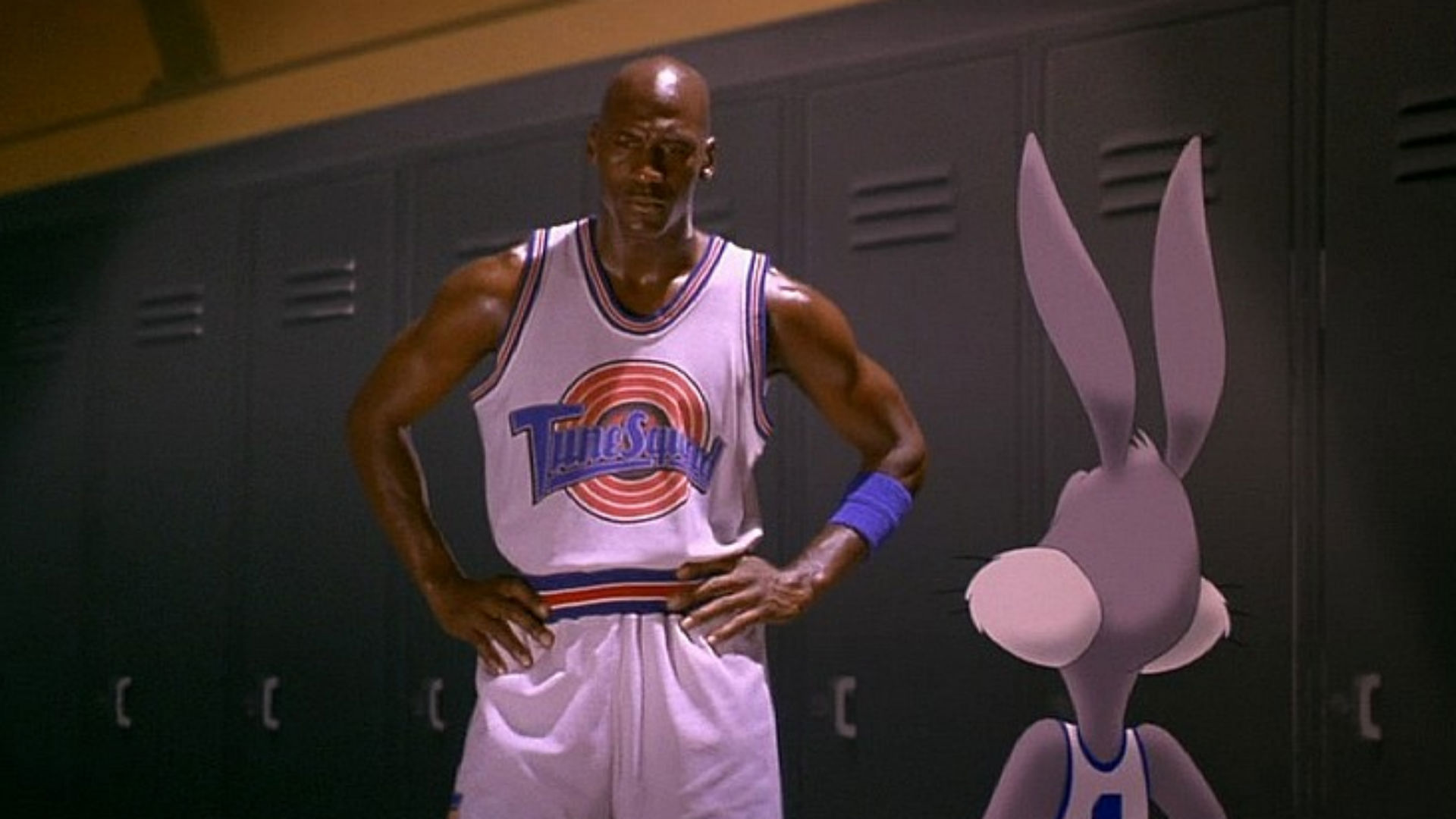 Chicago Bugs.
By TIM DAVID HARVEY.
Hare Jordan. I believe a rabbit can fly like an eagle! And if you see it, then you can be it...there's nothing to it. Believe it! And like a kiss from the rose of Seal, Chicago's greatest like R. Kelly is about to take him there.
The year is 1996 and it's time to warn a brother. Because this ones for all the carrots. Little green men have invaded, or maybe it's just Danny DeVito? But these aliens haven't come to get our landmarks like Jeff Goldblum's 'Independence Day' that year. But more like the special set of skills from the golden era NBA's best and brightest. New York Knick legend Patrick Ewing. The mound round of rebound, Chuck, Charles Barkley, Charlotte Hornet Grandmama Larry Johnson, the biggest little man to ever step up to this game Tyrone 'Muggsey' Bogues. And...erm Shawn Bradley. Well he is 7 foot 6 afterall.
All so these little spacemen can grow and bulk like Blake Griffin to become the 'Monstars' (the worst team since the Sixers before The Process when they ran out of answers), and challenge the Looney Tunes of Daffy Duck, Tweetie Pie and Porky the Pig to a game of basketball like Prince and his revolution of pancakes to Dave Chappelle and Charlie Murphy. Hitting them em' up high like B-Real, Busta Rhymes, Method Man, Coolio and LL Cool J. The forefit? A life of slavery in the name of entertainment on Moron Mountain for our favourite cartoon rabbit hole characters that only Walt Disney would love to see.
So what's a Marvin the Martian to do? How can they beat these hustlers at their own game. They need to get themselves a real player like Kobe Bryant in 'Hang Time', no matter how good Lola Bunny's handle is. Who else they got? Wayne Nedry?! You see what happened to him in 'Jurassic Park'? Bill Murray lost in 'Who Framed Roger Rabbit' like animated translation? They need to crown a player fit for King. But LeBron's just a baby. How about the greatest? Six time champ Michael Jordan. The best sportsman of all-time next to the greatest Muhammed Ali. Besides he's just retired from the Chicago Bulls to play minor league baseball in the name of his father. Inbetween hitting the links of the retirement rounds with Boston Celtic legend Larry Bird who legend has it once thought M.J. was God in disguise. And boy was he right on the dollar with Money.
So here's the plan. Wait until they're playing a round of golf. Give it some time. Maybe wait 'till around the back nine. Wait for the greatest competitor of all-time to hit a hole in one and pose for a picture as he retrieves his ball from the cup and GRAB him!
Simple!
What the hell was in that camera flash?! Pure entertainment as Mike is whisked to another dimension and you gotta like that. All so he can join a team a couple of blue chips away from running the picket fence like Hoosiers. But never fear M.J. is here. To run alongside his new Pippen, Bugs Bunny and win the game and the day. Saving all our childhood heroes and giving all the NBA legends their powers back. Let Shawn have his too ball...please! Hey, even Barkley promised he'd never date Madonna again.
So all those with a Basketball Jones like Chris Rock and Barry White get ready for the most out of this world game you've ever seen. From the time the most dominant of all-time Wilt Chamberlain scored 100 points in a single contest, to last night when Jordan Brand's own Russell Westbrook broke legend Oscar Robertson's half century record for triple-doubles in a season. If you didn't get a ticket for this ESPN Classic. Don't worry there's always the '30 For 30' documentary. And a Tune Squad throwback for your number 23 collection to go between all your red, white and Nike Air black Chicago Bulls jerseys book-ended by your North Carolina and Washington Wizards one. And who knows a rematch may even fly with Griffin like a 'White Men (Still) Can't Jump' sequel. But until number 32, let's flip it back to the time the G.O.A.T. won the game on a buzzer beating dunk that strong arm stretched further than his classic free-throw line Slam Dunck contest one.
Game...Tunes!
Welcome back to the Space Jam.
Yabidda-Yabidda! That's all folks!